16 Nov 2022
EXHIBITOR SPOTLIGHT - ORGANOID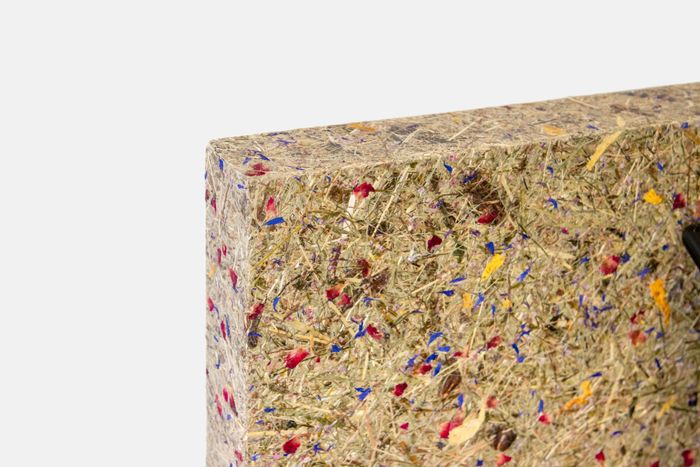 Organoid® is the leading producer of natural surfaces and will again be delighted to be displaying their innovative products at the Surface Design Show 2022, stand 171. In addition to the wonderful and versatile range of natural surfaces, Organoid® will be displaying sustainable acoustic products.
Organoid® Picture Absorber
Improve the acoustic properties of work and living spaces with an innovative and sustainable solution. The Organoid® picture absorbers are produced in the Austrian Alps in a carbon neutral production facility. Reverb and high noise levels in rooms demonstrably lead to issues regarding concentration and health. The sustainable acoustic elements offer people a healthier indoor climate that invites them to relax, feel good and welcome.
The picture absorber is a practical element for acoustic wall design. Its frame is made from recycled PET bottles, and this is covered with 100% natural flax fleece, to which a range of natural products is bonded, such as hay, beautiful flower petals and skeleton-leaves. The Organoid® acoustic products offer an improvement in reverberation time Alpha-w of up to 0.8.
Data Acoustic Picture Absorber:
• Acoustic solution made from recycled plastic bottles
• Certified standard 100 by OEKO-TEX®
• Size: 1100 x 550 x 50 mm
• Improvement of reverberation time: Alpha-w up to 0,8
• Simple and practical installation
• Picture absorber with real Alpine-hay, colourful flowers, petals and
elegant skeleton leaves
Do you want to offer your customers something extraordinary?
Combine the picture absorbers with the Organoid® wallpapers of the same design and create rooms with a wow effect. The tone-in-tone design can create the effect of an 'airy mountain meadow'.
The sustainable products genuinely offer a full sensory experience – you will be able to see, feel and smell these on our
Surface Design Show stand 171.
We really look forward to seeing you at the show.