06 Feb 2023
Join Surface Design Show and its impressive programme of talks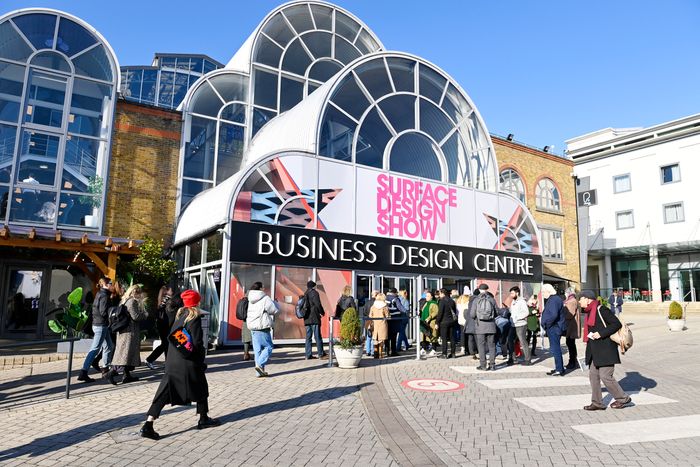 The programme consists of an exciting line-up of 24 presentations from 50 speakers, including architects, designers, manufacturers and journalists. The presentations cover important topics centred around the Show's theme for 2023: 'Shaping Communities'.
The popular Opening Night Debate (Tuesday 7 February, 6:30pm-7:30pm) will return on the first evening of the Surface Design Show. Hosted by Jonathan Smales, CEO of sustainable developments business Human Nature and sponsored by surface materials supplier CDUK, the debate is titled 'Design Solutions for place and Sustainable Living: the work of many hands.'
The debate assembles talented people from the worlds of architecture, design and communications to simulate the discussion. The debate will explore the relationships between places and behaviours. This year's panel features: Patrick Bellew, Founding Director at environmental design consultants Atelier Ten; Clarissa Bromelle, Head of Social Imagination at Human Nature; Alex Ely, Founding Director at architects Mæ; Daniel Rea, Director at design practice Periscope and Joanna Yarrow, Founding Partner at consultancy M&C Saatchi LIFE.
Immediately after the Opening Night Debate (7:45pm-8:45pm) on the Main Stage, Rebecca Weir of Light iQ, Karen Howes from Taylor Howes and Zoe Defert of Zoe & Architects will be discussing the topic 'Extending Your Design Rhetoric Through Collaboration and Connection' and how, when working together, architects and designers can extend their design language bringing additional benefits to clients.
Designed by Emily Skinner of recycling pioneers Smile Plastics, the Main Stage will also provide a range of panels, trend forecasts and insights into the latest surface design innovations, again referencing the 'Shaping Communities' theme.
Presentations on the Main Stage include: 'Colour, Material, and Finish Forecast: 2024' (2:30pm-3:00pm, Wednesday 8 February), hosted by Hannah Malein, Creative Director at Colour Hive/ MIX Magazine; 'The Importance of Inclusive and Social Sustainability within Architecture' (5:30pm-6.00pm, Wed 8 Feb), hosted by James Furzer, Director at JFD Architecture; and 'Art outside the frame' (Thurs 9 Feb, 2:45pm-3:15pm), hosted by Hamish Kilburn, Editor of Hotel Designs and Nicholas Hickson, Founder and Technical Director of design practice THDP.
The ever-popular PechaKucha evening makes a return with an all-female line up of designers. It will be hosted by Nicola Osborn, Creative Director, Basha-Franklin, and will take place on Wednesday 8 February from 6:30pm-7:30. The line-up of talented designers will discuss what 'Shaping Communities' means and why it is so important today. The exceptional line-up of speakers includes: Oluafunmbi Adeagbo, Project Architect at Morris + Company; Muriel Altunaga, EMEA Strategy Lead at HLW; Natasha Bonugli, Founder and Creative Director at The Bon Collective; Dee Gibson, Interior Designer at Velvet Orange; Nicola Rutt, Founding Director at Studio MULTI; Jeni Durksen, Senior Design Associate at M Moser Associates; Sofia Steffenoni, Co-Founder at Matter of Stuff. Taking the format of 20 images, each shown for just 20 seconds, the fast and furious discussion takes place on the Main Stage.
Legends Live, in partnership with Mix Interiors magazine, will return for a second year following its successful introduction in 2022. The interviews will explore the careers and ideas of legends within the fields of architecture and design. This year Legends Katrina Larkin, Co-Founder Fora and Chief ESG Officer at The Office Group, Justine Fox, Founder of Studio Fox, Linzi Cassells, Principle & Design Director at Perkins & Will and Shannon Pope-Ellis, Managing Director at MCM will be interviewed by Harry McKinley and Chloe Petersen Snell of Mix Interiors.
New for 2023, and operating on Wednesday 8 February only, is the Gallery Stage. The more intimate stage is located on the Gallery Level next to the Designers Hub, with panoramic views over Surface Design Show. The Gallery Stage hosts a series of inspirational presentations on a diverse range of design topics. Sustainability, future trends in materials and colour and lighting's ability to transform how we interact with our environments are among the subjects that will be addressed.
The schedule includes 'A dive into lighting and its extraordinary ability to transform how we interact and feel within the environment around us' from 2:15pm-2:45pm, hosted by Christian Haimes, Senior Designer, and Arianna Ghezzi, Associate at Lighting Design International and 'Spreading optimism with colours and shapes' (3:15pm-3:45pm) presented by June Mineyama-Smithson of MAMIMU
The Designers Hub on the Gallery Level gives exclusive access for visitors to have small meetings or complete individual work. Designed by Sonia Bourrel of Sonia b design and sponsored by KI Furniture, the space has been designed in line with the Show's theme of 'Shaping Communities' while offering a space that aims to meet varying needs. Seating from KI has been used to divide the space into different environments with added greenery to create a restful and calming space for guests and speakers.