05 Oct 2022
Q&A WITH SUSIE RUMBOLD, FOUNDER/CREATIVE DIRECTOR OF TESSUTO AND PAST PRESIDENT OF THE BIID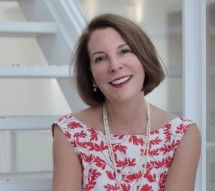 Susie Rumbold is the Founder/Creative Director of Tessuto and Past President of the British Institute of Interior Design. With over 30 years' experience in interior design, Susie has amassed a wealth of knowledge and experience. She is a judge for the Sunday Times British Homes Awards, the Northern Design Awards and the CEDIA Technology awards, and the industry representative for the National Design Academy, currently sitting on their degree validation committee at De Montford University.
YOU HAVE JUST WRITTEN YOUR FIRST BOOK? HOW DOES IT FEEL?
Yes, the BIID Project Book is my first, although I have written lots of papers and articles on interior design in the past. Because it was such a long gestation period to get everything perfect, it feels amazing to me that the book physically exists at last. The research and the manuscript took about ten months to complete and then it was peer reviewed, with every detail fact checked before going through several rounds of editing, designing and typesetting. I am delighted with the result, and I feel proud to think that I wrote it and that I am now in the British Library!
WHAT MADE YOU SAY YES WHEN YOU WERE ASKED TO WRITE THE BIID PROJECT BOOK?
Initially it was a case of 'flattery will get you everywhere'. I felt privileged to have been approached by the RIBA and the BIID and thought writing the book was something I would be able to do. I was originally contacted in mid-2020 right in the middle of the lockdown and, foolishly as it turned out, I assumed I would have time on my hands. Also, I felt that a real need existed for an up-to-date comprehensive source of information on professional practice for interior designers.
WHO DO YOU THINK WOULD BENEFIT MOST FROM READING THIS BOOK AND WHY?
All practicing interior designers, but especially those new to the profession will benefit from the book. It sets out step by step all the things designers need to do and consider to manage their projects in a professional manner. Established design practices and experienced sole traders will also find it invaluable as it provides advice on both business and design documentation, working with clients and working as part of a larger project team. Interior design is a complex profession, so having one indispensable point of reference where designers can find answers to all their questions should prove invaluable.
WHAT ROLE DO YOU SEE THE BIID PROJECT BOOK HAVING IN EDUCATING THE NEXT GENERATION OF INTERIOR DESIGNERS?
As a textbook, I hope the book will have a pivotal role in educating tomorrow's designers. Most design courses rightly focus on nurturing creativity and teaching the skills that students will need in their future careers, but often have little or no time to teach the professional practice side of the job. If tomorrow's designers are to be accepted as true professionals by the public, architects and other built environment professionals it is essential that they understand the nature of their role, and as a key text, the BIID project book will help to plug that gap.
WHAT IS THE MOST IMPORTANT PIECE OF KNOWLEDGE YOU WANT ALL DESIGNERS TO TAKE AWAY?
The most important knowledge contained in the book is how to set up every aspect of a design practice, run projects and maintain clear and unambiguous communications through every stage. The most important takeaway from the book for all designers is knowledge of their contractual obligations to clients and the dual professional/commercial nature of their role. This could be seen as quite dry compared with designing and specifying gorgeous spaces, but it is essential that designers understand this if they are to avoid getting into legal hot water.
WERE THERE ANY TIPS THAT DIDN'T MAKE IT INTO THE BOOK YOU WOULD LIKE TO SHARE HERE?
There was whole section I wrote on 'Rookie design errors and how to avoid them' that didn't make it into the book because the manuscript was persistently in excess of the required word count and I kept finding other things that were more important to squeeze in. If it's OK, I'm not going to share any of them here as they might find their way into a podcast series or possibly into a future book!
The BIID Interior Design Project Book is available for purchase now from RIBA Publishing and all good book retailers. BIID Members can receive a £10 discount, details for which can be found in the Member Area